For tonight's Family Home Evening the topic in which I have chosen is:
All About MOTHERS!
Preparation:
I hope and pray that you can use these ideas as a guideline and adjust them to the needs of your own specific family. Our prophet President Monson says,
"We cannot afford to neglect this heaven-inspired program. It can bring spiritual growth to each member of the family, helping him or her to withstand the temptations which are everywhere. The lessons learned in the home are those that last the longest."
On
Lds.org
there are resources available in helping to make your Family Home Evenings successful, here is a link to that site on
Family Home Evenings
.
Invite a member of the family member say the
prayer
Discuss any
family business
Follow-up
with last weeks FHE.
Family Home Evening Instruction:
Before FHE hard boil enough eggs for each member of your family. To begin Family Home Evening explain to your family that you have something that is very precious to you that you love very much. Show your family the eggs. Explain that you would like to give each member of the family one of these precious eggs. That you would like them to take care of them, nurture and protect them.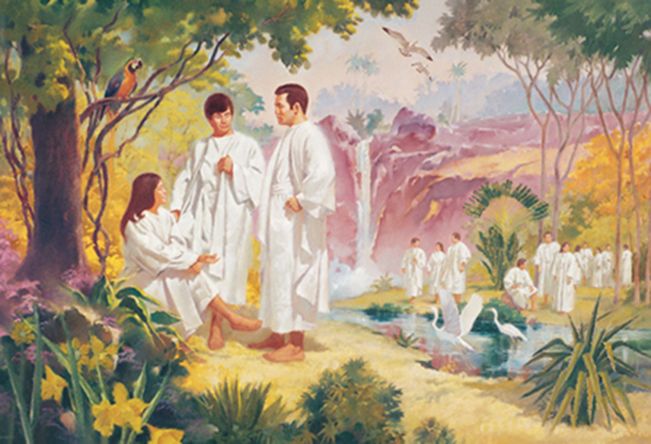 Image can be downloaded from lds.org: Pre-Existence by Jerry Harston
Show the picture of the pre-existence. Explain that we are each our Father and Mother in Heaven's children. He loves us so much and we are very precious to him. He has sent us to earth to families and communities. We are each charged to nurture, care for, protect and strengthen his children.
Read the following quote by Sister Sheri L. Dew, from the October 2001 General Conference, title "
Are We Not All Mothers?
",
"This summer four teenage nieces and I shared a tense Sunday evening when we set out walking from a downtown hotel in a city we were visiting to a nearby chapel where I was to speak. I had made that walk many times, but that evening we suddenly found ourselves engulfed by an enormous mob of drunken parade-goers. It was no place for four teenage girls, or their aunt, I might add. But with the streets closed to traffic, we had no choice but to keep walking. Over the din, I shouted to the girls, "Stay right with me." As we maneuvered through the crush of humanity, the only thing on my mind was my nieces' safety.
Thankfully, we finally made it to the chapel. But for one unnerving hour, I better understood how mothers who forgo their own safety to protect a child must feel. My siblings had entrusted me with their daughters, whom I love, and I would have done anything to lead them to safety. Likewise, our Father has entrusted us as women with His children, and He has asked us to love them and help lead them safely past the dangers of mortality back home."
Ask your family to think about someone who has had an important impact in their life. Someone who has helped to nurture them, strengthen them, protect them and help them grow. Is it your mom, a grandma, a neighbor, an aunt, a teacher???
Give each family member a blank card, invite them to write a note of appreciation for that person.
Invite your family members to help you make a vase full of flowers (See flower printable. Invite family members to color the flowers and then attach them to wooden skewers or craft sticks with tape). Explain that each women, each mother is unique, just as each flower is unique. As they finish making their flower, invite them to chose one of the quotes (see quote printable), read it (help younger children), attach it to the flower and then place their flower in the vase.
Ask each family member if they have taken care of your precious egg the whole time. Explain that there will be a day when our Heavenly Father will ask us if we have watched over, nurtured, protected his children and helped them to grow. All women have the special responsibility to use their gifts and talents to mother Heavenly Father's children.
Close by sharing your thoughts and testimony on the importance of motherhood.
Close with a
Family Prayer.
Want a fun desert idea???
Sugar Cookie Flower Cookies... Use your favorite Sugar Cookie recipe or by the pre-made stuff and using flower shaped cookie cutters, cut out cookies and bake. Invite family members to decorate their cookies. Turn it into a service and make a plate and deliver the cookies along with the card to the mother you appreciate.
Thank you so much for stopping by!! I'd love to hear if you've used any of these ideas, leave a comment below...
Do you want more FHE ideas??? Check these ones out:
Family Home Evening on Going To The Rescue
16+ Family Home Evenings and Ideas to Help Prepare and Get the Most out of General Conference
How to Catch the Spark of Family History Work and Keep the Flame Going!